Mr Macaroni Blows Hot As He Shares Video Of NDLEA Officials Assaulting Popular Skit Maker, DeGeneral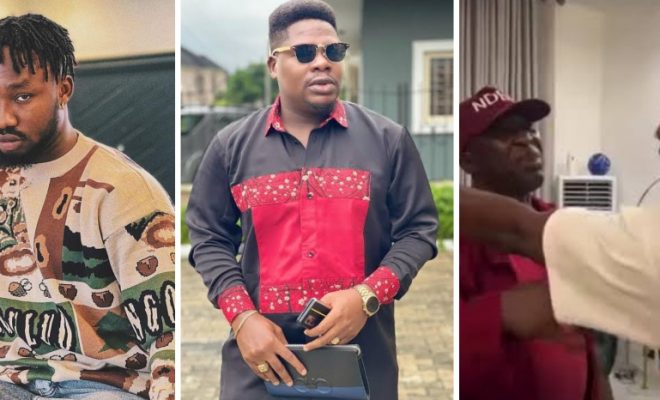 Talented skit maker, Dabo Adebayo best known as Mr. Macaroni, has reacted to a disturbing video of how one of his friend and colleague, DeGeneral, was allegedly assaulted at his home and arrested by the Nigeria Drug Law Enforcement Agency (NDLEA).
A part of the video shows the DeGeneral and his friends being beaten by the officials of the agency who frowned at his decision to video them.
One of the officials could be heard raising his voice to tell the skit maker that he has no right to record them despite his calls for him to be allowed express his fundamental human rights.
Reacting, Mr Macaroni wondered if the job description of the enforcement agency is to go into houses of individuals in the middle of the night to beat and harass them.
Furthermore, he stated that this incident has just happened, and as such he has no idea of where his friends have been taken to as he cries out saying what manner of oppression is.