Afenifere celebrates 70th anniversary in low key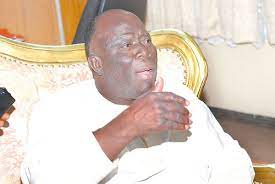 In commiseration of its 70th anniversary, the pan-Yoruba Socio-political organization, Afenifere, said it would celebrate it in a low key because of issues such as the second wave of Covid-19, the mayhem by herdsmen and the spate of kidnapping in Yorubaland in particular and Nigeria in general.
The late sage, Chief Obafemi Awolowo and eight others, including; Chief Abiodun Akerele, Chief S.O Shonibare, Chief Ayo Akinsanya, Chief Olatunji Dosunnu, Mr. Samuel Akinsanya, Chief J.O Adigun and Chief S.T Oredein were the founding fathers of the Action Group, Egbe Afenifere in 1951.
In a statement by its organizing committee, Afenifere said, "Today, being the 28th of April, is the 70th anniversary of that epic event. We are most indebted for the enduring legacy bestowed upon the progressive political strand in the South-West by the efforts of the founding fathers and all the leaders in attendance at Owo, on April 28, 1951. We appreciate the efforts of our heroes past, as we stand on their shoulders to gaze at a better future to bequeath to the coming generations".